November 11th is Remembrance Day or Veteran's Day.  There are some really good selections in Musicplay.     Musicplay 1 – Just One Candle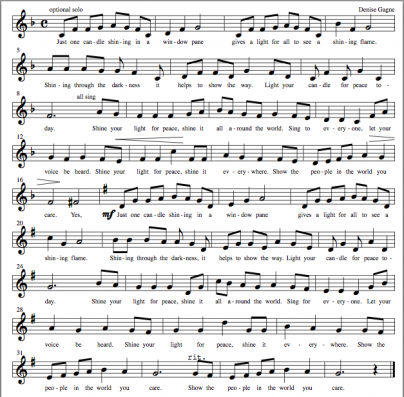 You could use Just One Candle for Nov. 11th, and then use it again in your holiday program!
In Musicplay 3, there is a lovely piece by Sandra Klassen, Remember Flanders Fields.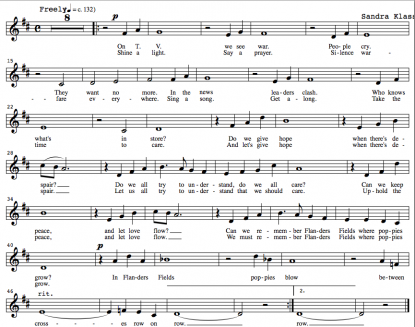 If you don't have Musicplay 1 or 3, these selections are available from www.musicplay.ca as single song kits.  When you enter the website, select song collections, then single song kits.  ANY song that we hold the copyright to can be made available as a single song kit.  The Kit is $15 and includes a piano/vocal score, a vocal reproducible and performance/accompaniment CDs.
Other Favorites for Nov. 11th include
A Wish For Peace (also titled A Christmas Wish) from the Happy Holidays collection.  (also a single song kit)
There are several performances on YouTube of this song:
Edwin posted the words for his choir to practice with – he's one of the teacher's who suggested the word change to make this song work for both Nov 11th and Christmas concerts.
http://www.youtube.com/watch?v=uBl4zmdso2I
This is the Christmas version:
http://www.youtube.com/watch?v=JVgBsL3t80E
In Flanders Fields – Craig Cassils has written two arrangements of this poem.  One is in Songs of Peace
This arrangement was on CBC news in 2011!  Great performance with choir and movement:
http://www.youtube.com/watch?v=tn7gqpnVdRo
The other Flanders Fields is in the collection, "We Remember."  I really like both arrangements.
I love the song "Take One Minute to Stand" by Beth Jay from this collection and made a video last year.